Maximize your time for sightseeing by taking a Santa Barbara shore excursion with Santa Barbara Trolley.
Welcome to Santa Barbara!
Whether you purchase the 90 minute tour from your ship excursion desk or the tour directly with Santa Barbara Trolley, you will encounter some of our most famous landmarks including the Santa Barbara Mission, Montecito, and El Presidio. For 35 years, Santa Barbara Trolley has brought visitors to Santa Barbara's attractions. Join our native Santa Barbara conductors as they bring Santa Barbara's history to life!
Shore Excursion Tickets

If you purchased your tickets from the Cruise Line:
90-minute tour.
Not a "hop on and off" tour.
It is a first come first serve seating arrangement. Those with larger groups will all want to stick together to ensure seating together on the trolleys
Trolleys pick up right at the drop off location of the cruise.
Although you are guaranteed a seat on the tour, it is a first come first serve seating arrangement. Those with larger groups will all want to stick together to ensure seating together on the trolleys.
If you purchased tickets from SB Trolley or Trip Advisor directly:
Tour begins at the Visitor Center on 1 Garden Street, about 0.5 miles from where the cruise ships drop off.
No guaranteed seating.
Purchasing tickets online is not a reservation and does not hold a seat for any certain day; Tickets purchased online are not for a specific day or time, they have no expiration and are vouchers which are redeemable at any time.
90-Minute Tours of Santa Barbara Hot Spots running Daily from the Visitor Information Center.
If paying with cash, Exact change is appreciated.
Stearns Wharf and the Dolphin Fountain:
Stearns Wharf offers great views, wine-tasting, shops, restaurants, seafood market and a bait and tackle shop for fishing. Stearns Wharf and the famous Dolphin Fountain stand today as Santa Barbara's most visited landmarks.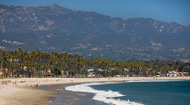 East Beach:
East Beach is a favorite spot for locals for volleyball (including pro tournaments), skating, paddle sports, art shows and just plain relaxing. It also has a great panoramic view of the Santa Barbara mountains.

Andrea Clark Bird Refuge and Santa Barbara Zoo:
A scenic lagoon wildlife preserve with water birds, gardens, footpath and a bikeway. The Santa Barbara Zoo is home to 160 species of mammals, reptiles, birds and insects. More than 400 animals are exhibited in open, naturalistic habitats.

The Harbor:
At Santa Barbara Harbor you will find interesting stores, delicious seafood restaurants and the occasional celeberty yacht. Naturally sheltered by mountains and islands on a southward facing coastline, it is one of the best harbors in the world.
Museum of Natural History:
The Santa Barbara Museum of Natural History has a rich history dating back to 1876. Exhibits and collections change throughout the year to educate and entertain children and adults alike. Make sure to check out the iconic 73-foot Blue Whale skeleton displayed out front!

Old Santa Barbara Mission:
Founded in December 4, 1786, the Santa Barbara Mission is open to the public with a museum, gardens, chapel and historic cemetery. Portions of its extensive water works are preserved in this park

A wonderful tour of Santa Barbara. The drivers were incredibly personable and informative. You could get on and off the tour all day and the trolleys were on time and hit all the major attractions. Tremondous value for the money, tickets had discounts to many major attractions and restaurants on tour. Would recommend this to anyone visiting Santa Barbara.– Laura B.