Daily Tour Highlights and Special Sights
Trolley tours are the best way to see Santa Barbara. One fare takes you to special spots throughout Santa Barbara.
90 minute tours run Thursday to Monday from the Visitor Center located at 1 Garden Street at 10am, 12pm, and 2pm.
Due to COVID-19 we are unable to offer hop-on hop-off tours at this time.
Stearns Wharf and the Dolphin Fountain:
Stearns Wharf offers great views, wine-tasting, shops, restaurants, seafood market and a bait and tackle shop for fishing. Stearns Wharf and the famous Dolphin Fountain stand today as Santa Barbara's most visited landmarks.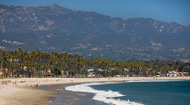 East Beach:
East Beach is a favorite spot for locals for volleyball (including pro tournaments), skating, paddle sports, art shows and just plain relaxing. It also has a great panoramic view of the Santa Barbara mountains.

Andrea Clark Bird Refuge and Santa Barbara Zoo:
A scenic lagoon wildlife preserve with water birds, gardens, footpath and a bikeway. The Santa Barbara Zoo is home to 160 species of mammals, reptiles, birds and insects. More than 400 animals are exhibited in open, naturalistic habitats.

The Harbor:
At Santa Barbara Harbor you will find interesting stores, delicious seafood restaurants and the occasional celeberty yacht. Naturally sheltered by mountains and islands on a southward facing coastline, it is one of the best harbors in the world.
Museum of Natural History:
The Santa Barbara Museum of Natural History has a rich history dating back to 1876. Exhibits and collections change throughout the year to educate and entertain children and adults alike. Make sure to check out the iconic 73-foot Blue Whale skeleton displayed out front!

Old Santa Barbara Mission:
Founded in December 4, 1786, the Santa Barbara Mission is open to the public with a museum, gardens, chapel and historic cemetery. Portions of its extensive water works are preserved in this park

Thank you so much for providing such amazing Santa Barbara tours. I took my out-of-town guests on their first day in town as a way to show them all the top historic spots (The Mission, Butterfly Beach, etc.) and give them a good lay-of-the-land to start their vacation. My guests loved the tour and went back to take advantage of the second consecutive day special — and all the freebies as part of the ticket — thank you, thank you!

What surprised me was how much I learned as a local. The tour guide was a wealth of Santa Barbara historic information. There was so much I didn't know about my own town! Your tours are so fun, entertaining and educational. I will be back, I just had to write to let you know how much I enjoyed your service.- Kathleen M., Santa Barbara
90 minute tours run Thursday to Monday from the Visitor Center located at 1 Garden Street at 10am, 12pm, and 2pm.
Every ticket purchased includes:
Coupons for great deals at local sites!
20% off Wheel Fun Rentals!
Ticket Pricing:
Adult Pass: $25
Child Pass: $8